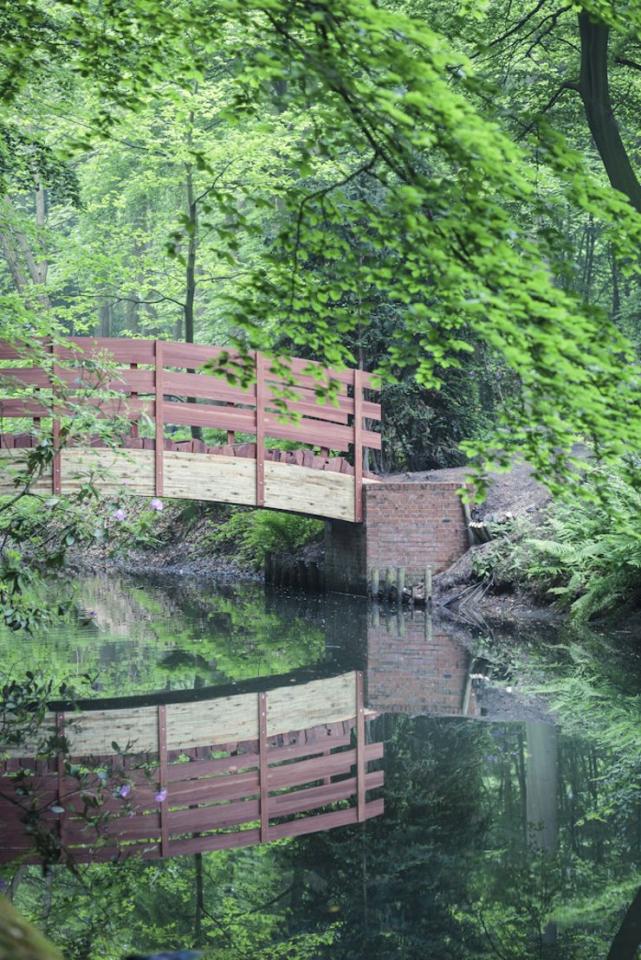 A work that encourages the spectator to reflect on the implications of the (symbolic) crossing. 
The Middelheim Museum asked Ai Weiwei to build a bridge. The artist was only too happy to take up the invitation. He saw it as a challenge, as he had never built a bridge before.
Because the artist uses materials sparingly, he has recycled a little bridge that already existed in the sculpture park for his project. But then again, he has done it in a way that only Ai Weiwei can. The original deck of the bridge was replaced with planks that form the contours of China, his homeland and the country with which Ai Weiwei has a problematic and passionate relationship (Ai Weiwei has used the topographical shape of his country more than once before in his work). The bridge is reminiscent of the little bridges in Asian drawings, but makes us think at the same time about the implications of the (symbolic) crossing of a bridge.
Ai Weiwei is an all-round artist, who likes to say that he is tinkering at the doors of art. He is a visual artist, a poet, an architect, a curator, and an expert on old Chinese art objects… A 'homo universalis', who incorporates contemporary media such as twitter and YouTube in his work.
Ai Weiwei once said of himself that he was a 'readymade', in reference to Marcel Duchamp's conceptual art. He uses Chinese cultural objects as found materials for his own conceptual work. His performances and installations are designed to question the status quo, to challenge the powers that be, to bring about a change in mindset in society and to kindle people's individual sense of responsibility.
His favourite word is 'act'. 'In a rational society, the artist's role is similar to that of a virus. Even the smallest design can cause chaos in the world. Art sharpens the alertness of rational truth. The power of art lies in its awareness of the cultural and psychological subversion.'
Specifications
The Bridge without a name
2012
h 200 cm x w 160 cm x d 875 cm
Tropical hardwood
MIDW540
More information about this highlight
Download