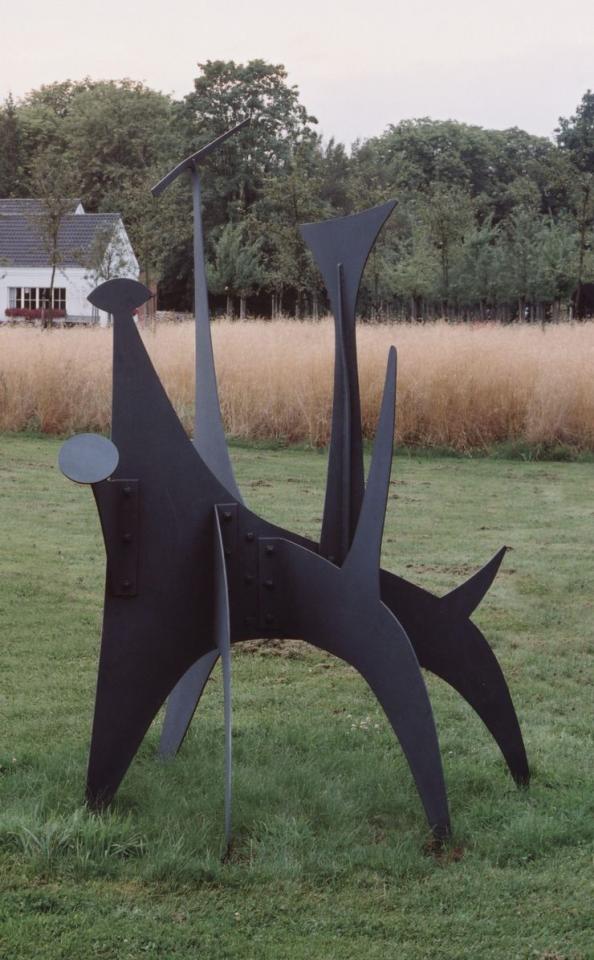 In 1959–60 Calder's "stabiles' – including the Dog – were featured in a sensational travelling exhibition.
Although Calder was no beginner in 1958, having been close to Miró, Léger, Arp and Mondrian in his Paris period, this proved to be a decisive year for the form of expression of which he was to become a master: the "stabiles".
The term was coined by Jean Arp, who wished to emphasise the contrast with the "mobiles", which Calder had specialised in (and which had originally been conceived by Marcel Duchamp).
Because of the multitude of heads and legs, the sculpture seems to simultaneously suggest numerous poses and moods. The shapes, which were cut out of sheet iron and assembled with heavy bolts, which are normally used for mechanical constructions or in ship-building, stand upon five legs.
Location
Number 20 on the map
Specifications
The Dog
1958
h 230 cm x w 170 cm x d 170 cm
Iron, paint
MIDW383
More information about this highlight
Download