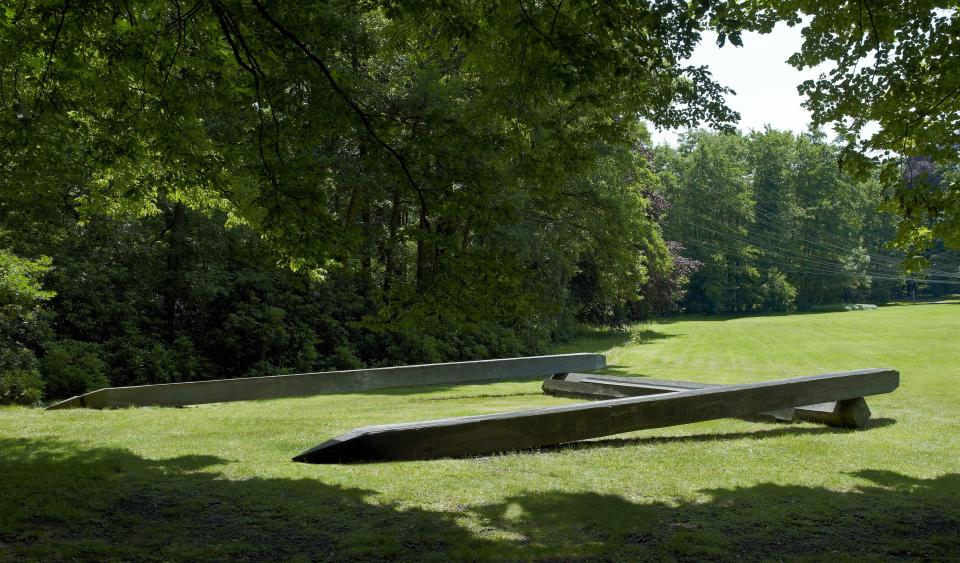 A geometric structure gradually returns to its organic origins.
Bernd Lohaus arrived in Antwerp in 1966 where he took part in 'happenings' with Panamarenko, Hugo Heyrman and others. He was, therefore, present for the birth of the Wide White Space Gallery. His work was originally situated in the context of post-Minimalism and antiform.
Lohaus investigated a range of unconventional materials and their possible relationships. Tape, paper, canvas, wooden beams, paint and rope made for highly hybrid interventions. Located somewhere between painting, sculpture and installation, the objects nestled in clusters or arranged themselves across the walls and floors of the exhibition space. A more purified vocabulary of forms gradually began to crystallize from this multitude of manifestations.
Lohaus concentrated on installing and combining heavy wooden beams, which he got from the docks. They hint at a relationship with their natural origins, but also evoke associations with history and progress through their geometric forms and traces of wear and tear. The addition of words (usually contextless prepositions, pronouns or verbs) scratched or chalked onto these silent remains lends them a textual complexity.
Lohaus's contribution to the exhibition New Sculptures (1993) was a large, horizontal sculpture which integrated perfectly with the radiant parkland of Middelheim-Laag. The beams, which partially support each other, seem to mark out a space, while at the same time indicating a direction. With their weathered skin and dark colouring, they are barely visible in this environment and seem to have belonged here for decades, like a geometric structure gradually returning to its organic origins.
Location
Number 42 on the map
Specifications
Middelheim
1993
h 113 cm x w 786 cm x d 1230 cm
Azobe wood and iron
MIDW474
Sculpture realised for the exhibition 'New Sculptures', organised by Bart Cassiman, project manager Contemporary Art for Antwerp 93, Cultural Capital of Europe.
More information about this highlight
Download