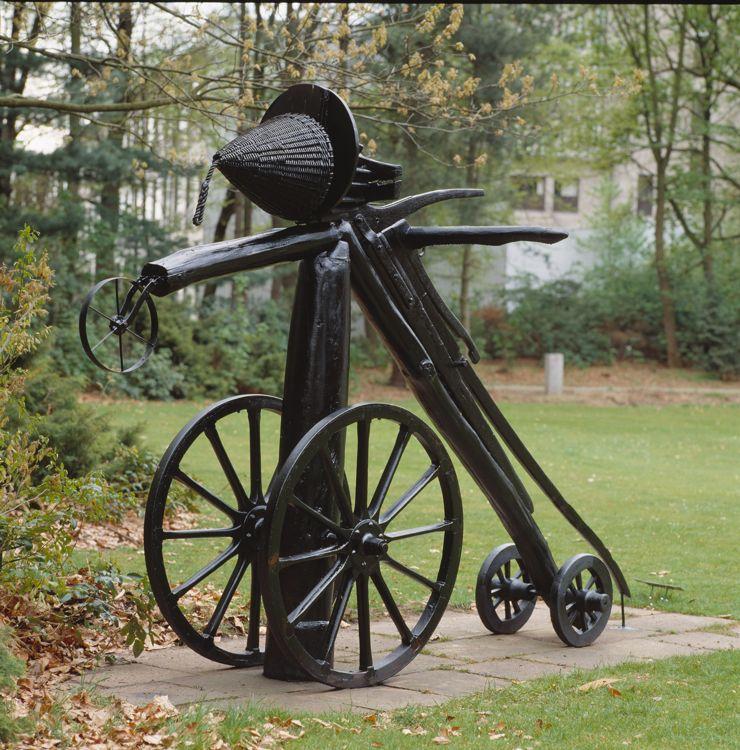 A fascination for the relationship between finite and infinite, between inside and outside.
This assemblage is a unique and characteristic example of Van Breedam's art. He wanted to portray the cyclical nature of life and involve the viewer in the process. This often releases an unexpected poetic quality in the work.
Van Breedam loves sculptures with wheels, whether or not they can turn. According to the artist, this work is a cart "made to transport the sun to an ideal spot". He adds that "it arrived safely in Middelheim".
Van Breedam also makes cabinets, collages and environments, in which he places objects in spaces he has designed himself – walls, for instance, or shop windows, an underground station or a library. He often works with found objects, which he rescues from the mania and compulsive consumerism of Western society, giving them a new future. Van Breedam has already received numerous prizes for his work, both in Belgium and internationally. He is a member of the G58– Hessenhuis group in Antwerp and Mouvement Phases in Paris.
Specifications
Sun cart
1974
h 260 cm x w 187 cm x d 380 cm
Wood, iron
MIDW413
More information about this highlight
Download