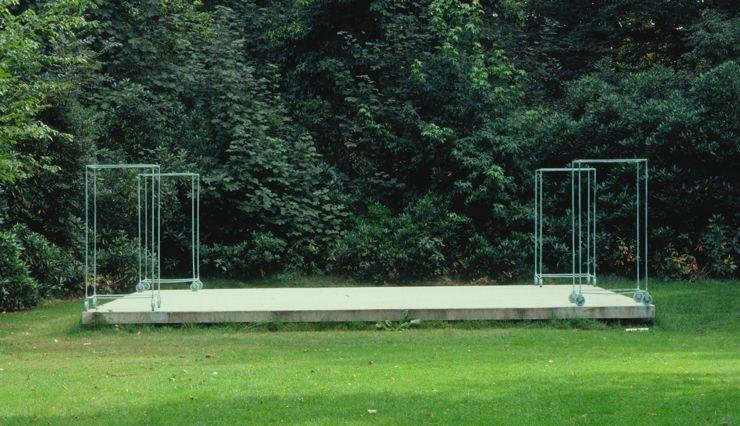 A break in trend, and at the same time a reminiscence on the past of sculpture.
Without a single trace of irony, Vermeiren makes plinths and bases, or slabs, as self-contained entities. They are as important as the sculptures they bear, they step out of their shadow and become art works themselves.
This work consists of four cage constructions on casters, placed at the four corners of a large slab of stone. The positions of the wheels, the directions they face, accentuate the length and breadth of the stone.
The work demarcates its edges, just as the cages emphasize its corners. Despite the precise arrangement, it is feasible for the four cages to move in a clockwise direction into each other's positions. A tension is introduced to the static quality of this sculpture through the potential for movement that hangs in the air, but is not manifested. The surface on which they stand also seems unsure of its position: it appears to float above the ground.
This work was shown at the exhibition New Sculptures during Antwerp 93, after which it was bought for the collection. It perfectly suited the title and intentions of the exhibition.
Location
Number 46 on the map
Specifications
Place
1993
h 192 cm x w 650 cm x d 650 cm
Sandstone, bronze
MIDW479
Sculpture realised for the exhibition 'New Sculptures', organised by Bart Cassiman, project manager Contemporary Art for Antwerp 93, Cultural Capital of Europe.
More information about this highlight
Download