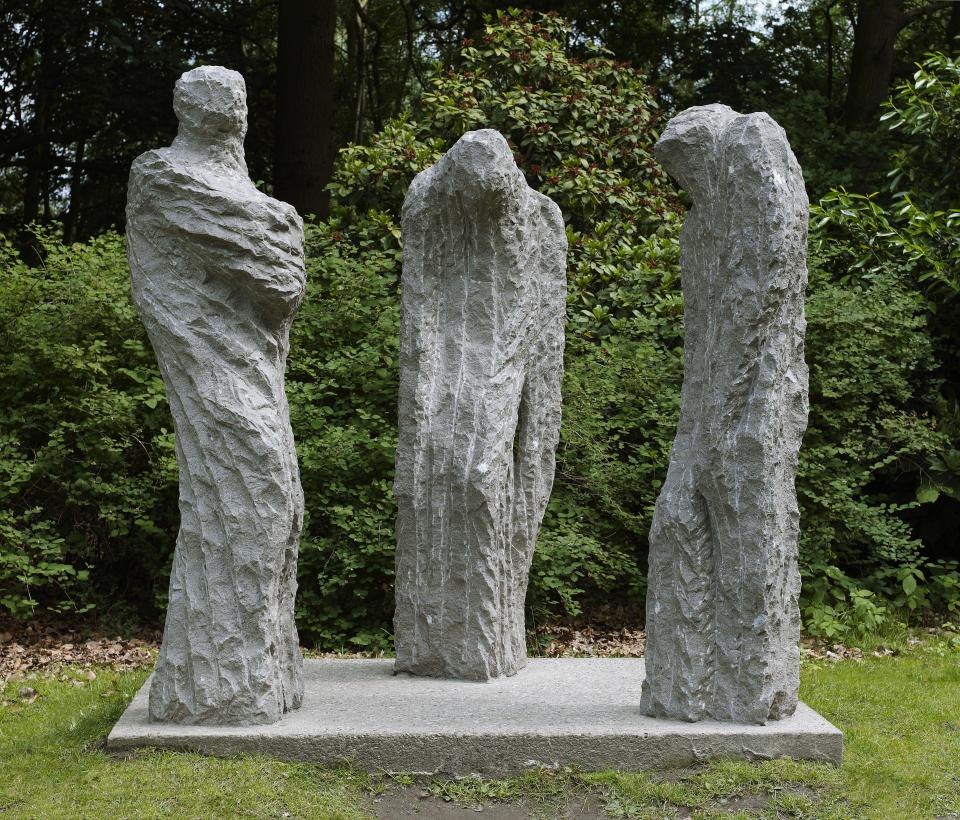 Dodeigne created figures without detail, hewn yet unhewn. 
Dodeigne based this sculpture on three drawings, which he made in the winter of 1977-78. They recall dolmen stones, frozen in time, lending the sculptures a mystical and somewhat pagan air. The form takes precedence over content, as Dodeigne's great model Rodin had always argued.
These are unique pieces, carved directly into the stone (taille directe). The figures are pared down, but monumental. They are elegant monoliths. They stand, that much is certain, hence the title. They are precise forms, which stand covertly, moving together, while guarding their distance, watching one another. High priests of the slightest gesture. They stand still, yet seem to stride with great dignity.
These sculptures are instantly recognisable in their form and action. At the same time, they remain rough lumps of blue stone from Soignies. This highly specific material was perfectly suited to Dodeigne's intentions.
The Middelheim Museum also boasts a Kneeling Figure by the same artist.
Specifications
Three Standing Figures
1978
h 180 cm x w 61 cm x d 52 cm
h 190 cm x w 53 cm x d 47 cm
h 180 cm x w 45 cm x d 60 cm
Soignies stone
MIDW415
More information about this highlight
Download