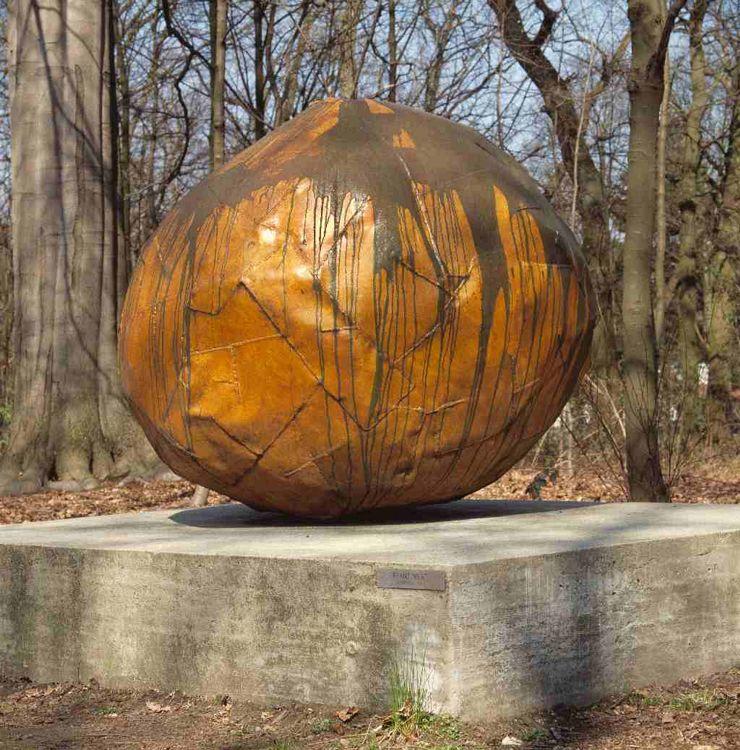 An incomplete geometric form made from aluminium sprayed with car paint.
West made a number of new sculptures for his solo show at Middelheim in 1998. He also designed the poster and the catalogue. Two of the new works remain in the collection: Freie Form and Sphairos.
Franz West was originally concerned with contrary, neo-Dada collages and graphics. But he sought a way out of two-dimensionality. He first ventured into sculpture in the mid-Seventies with his now-famous Paszstücke.
These are 'portable' objects made from papier mâché or plaster, abstract and organic in form, but with visual echoes of household implements or prosthetics. They may be held and manipulated by the viewer, joining the sculptural and the performative.
Open-air sculptures are relatively recent for Franz West. The first came in response to his participation in Skulptur Projekte Münster (1987), for which he recycled his mother's old washing machine and turned it into an installation with three chairs. Later open-air projects also invited visitors to take their place on objects designed by the artist to be sat on.
Location
Number 47 on the map
Specifications
Sphairos
1998
h 150 cm x w 150 cm x d 150 cm
Aluminium, car paint
MIDW493
More information about this highlight
Download