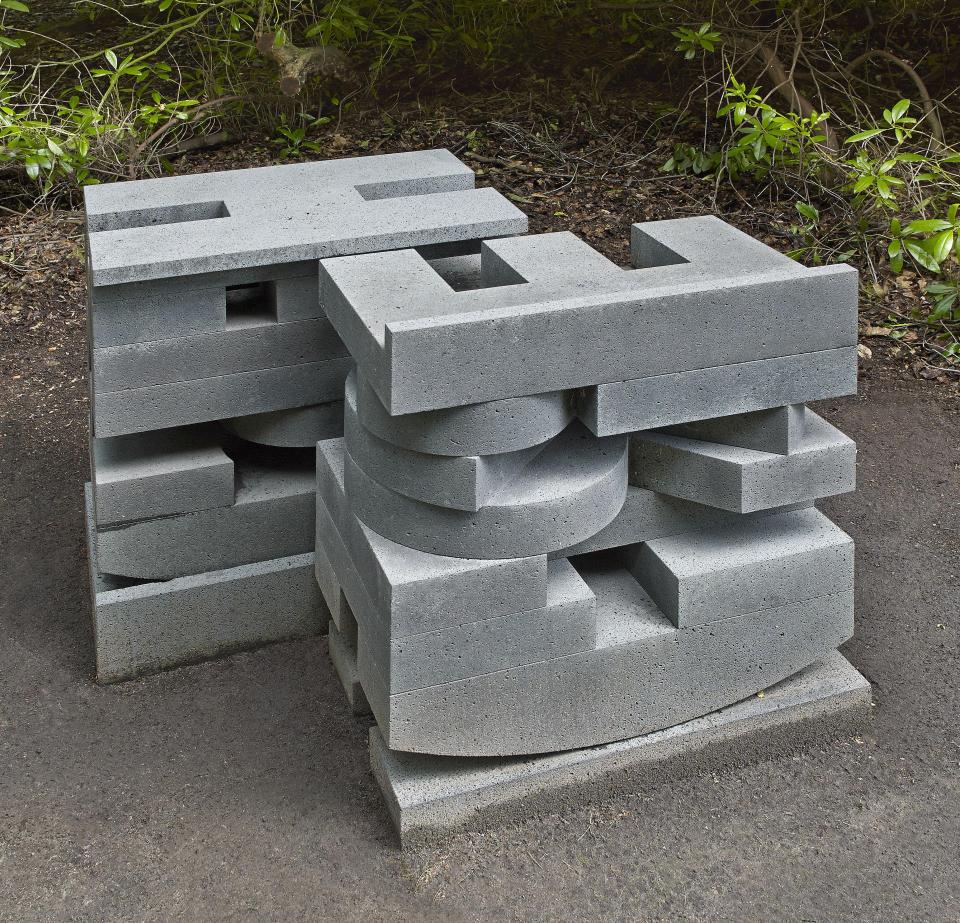 The title "Fear leaves its Objects and turns into Hate" adds an element of darkness.
Harald Klingelhöller emerged in the Eighties with sculptures that questioned the norms of Modernist sculpture. The monolithic, self-referential forms of Minimal Art exploded in his hands into relatively complex piles of blocks and fragments.
The heterogeneity of the materials he uses (cardboard, steel, sheets of glass, mirrors, plaster, wood, concrete) all contribute to the incoherent effect. At first glance, Klingelhöller's constructions of geometric forms and volumes appear abstract, but closer inspection reveals 'familiar' details. Parts of his installation resemble stylized, archetypical components of buildings, such as balustrades, columns, architraves and rounded arches. The works look like scale models of semi-dismantled buildings.
From the late Eighties, another, literally 'legible' element emerged in Klingelhöller's work. Some geometric forms are clearly based on letters. Klingelhöller conceived Die Furcht verläszt ihren Gegenstand und geht über in Hass (Fear Leaves its Object and Turns into Hate) for the exhibition New Sculptures in 1993. The 16 letters of the title were made in grey igneous rock and arranged neatly in two piles. The artist picked a particular location in Middelheim-Laag for the work, where it could interact with a green wall of rhododendrons. These inconspicuous, geometric constructions resemble Modernist buildings in an idyllic, landscape environment. Yet the ominous title casts a dark shadow across this picturesque scene.
Location
Number 41 on the map
Specifications
Die Furcht verläszt ihren Gegenstand und geht über in Hass
1993
h 170 cm x w 130 cm x d 110 cm
Basalt
MIDW473
Sculpture realised for the exhibition 'New Sculptures', organised by Bart Cassiman, project manager Contemporary Art for Antwerp 93, Cultural Capital of Europe.
More information about this highlight
Download