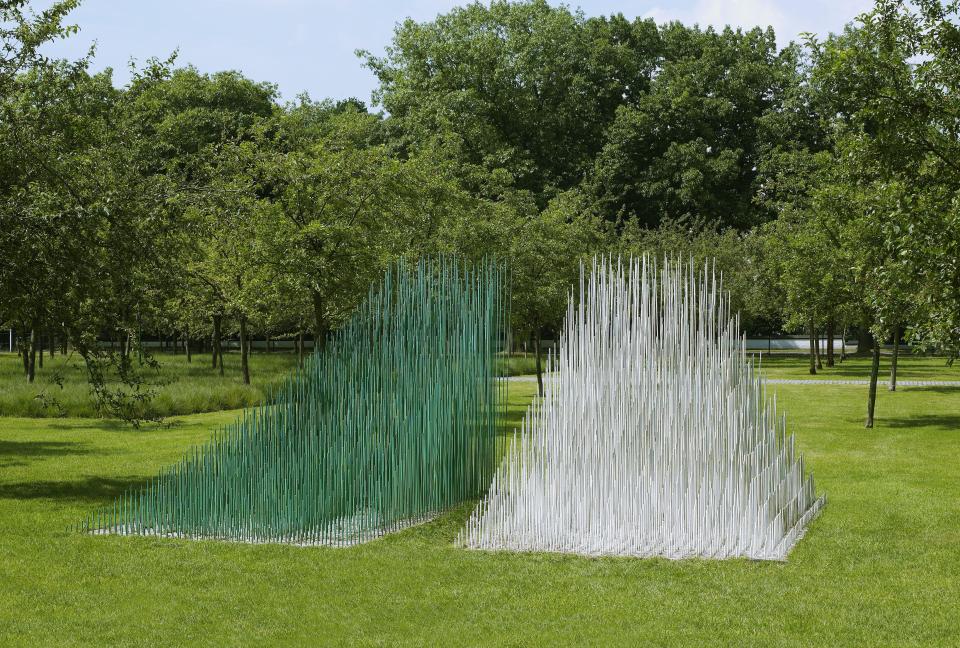 Double Progression Vert et Blanc was completed in 1969 to mark the tenth anniversary of the biennial Middelheim exhibition.
This work is part of the "Progressions" series, which Soto created in the second half of the Sixties. Soto has inserted reinforcing bars of ascending lengths into two concrete plates, creating "forests" of steel, one in white and one in green.
He succeeded in dematerialising the materials by painting them, allowing him to create an optical vibration, in combination with the work's serial nature. Every time the spectator moves, the vibration is increased. Light is an abstract notion in itself, but Soto has managed to render this light tangible with these types of sculptures.
From 1951, Jesús Rafael Soto began to systematically repeat forms. In 1953, he took an important step towards kinetic art when he began using Plexiglas. A year later, he formulated the concepts of this new art form, together with Tinguely and Agam. He continued to develop a more three-dimensional style, creating the first sculpture integrated with architecture in 1958, which was exhibited in the Venezuelan Pavilion at Expo '58 in Brussels.
In 1963 he produced Extensions, Penetrables and Progressions, which he further developed in series. Soto became famous with these works, which earned him a spot at all the major exhibitions and biennales.
Specifications
Double Progression Vert et Blanc
1969
h 249 cm x w 589 cm x d 504 cm
Iron, paint
MIDW277B
More information about this highlight
Download