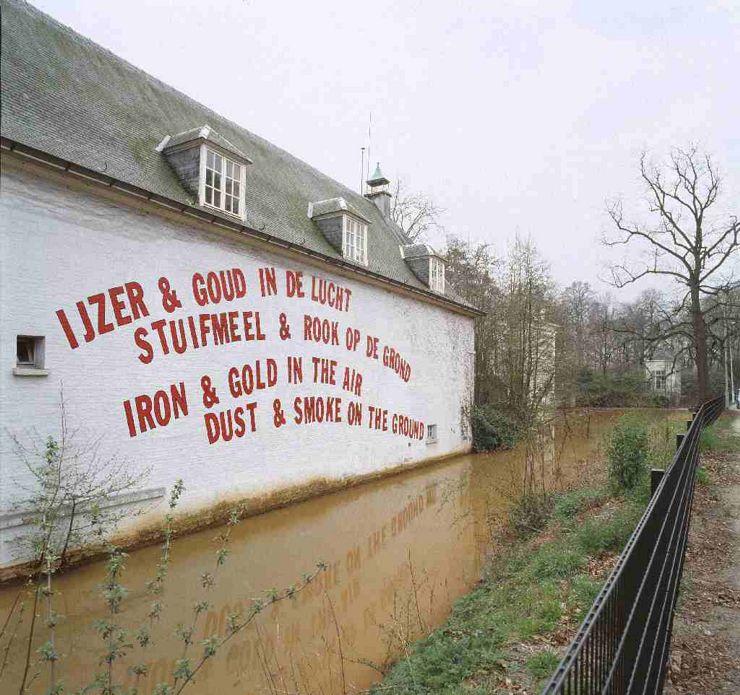 Weiner uses words to present an empirical reality.
"Iron and gold in the air, pollen and smoke on the ground". For over thirty years, Weiner has been producing work based on language, which he translates into the "receiving" language depending on the country in which it is shown. The separation of form and content in a work of art is one of the most radical interventions in the history of art.
Weiner makes "statements", which can change owner in the form of a certificate. A work can be executed at the same time and in many different places in the world on the most varied and "democratic" of supports, such as posters, badges, books, records and videos. Weiner breaks with the a priori unique character of a work of art by leaving its execution – imposing only the use of the Franklin Gothic font – to whoever owns it or wants to own it.
The work for the Middelheim Museum, which is entitled Wind and the Willows, may be considered as a sculpture which can be completed in a mental and virtual reality by anyone who sees it, reads, it and experiences it. It would be wrong to attach any historical or other interpretations to this playfully executed work. Lawrence Weiner projects a reality in itself, with no explicit intentions or associations in terms of content. It is up to the spectator to think creatively about Weiner's words in the context of a lovely and romantic sculpture park. Like dancing fragments of language, they stimulate the boundaries we set between the uninhibited reception of "verbatim" reality and the inherent human urge to place and decode information in a moralising, historicising and socially explanatory context.
Specifications
Wind and the Willows
1995
h 510 cm x w 1450 cm
Paint
MIDW484
More information about this highlight
Download