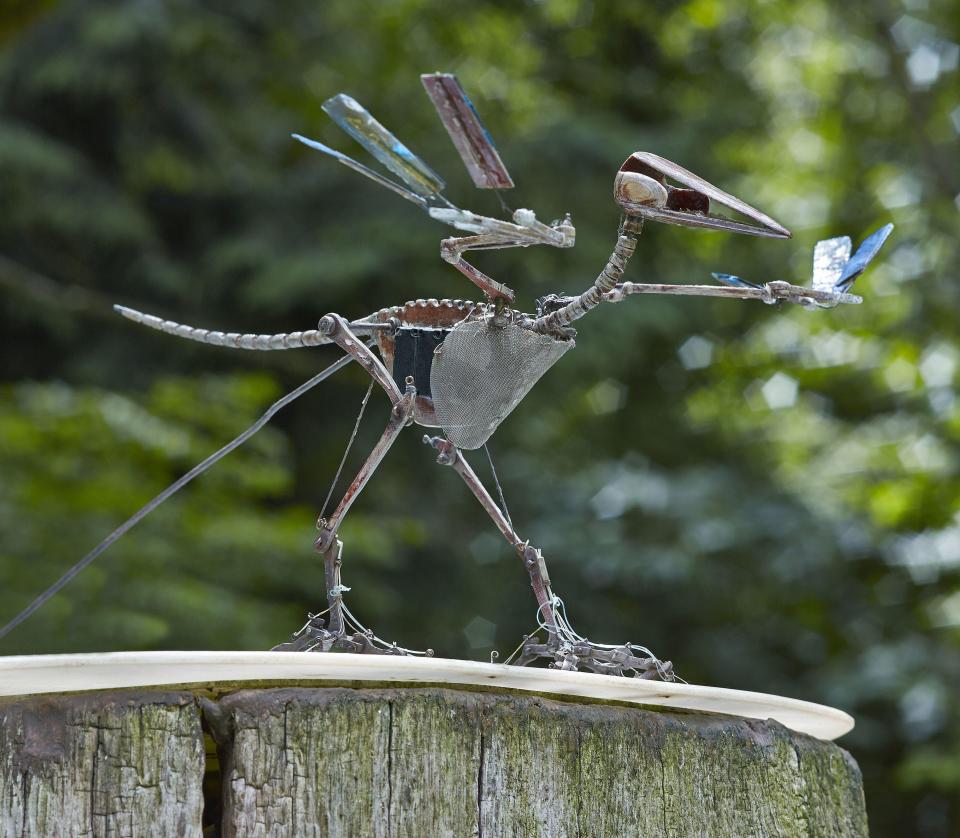 "What others call real art looks too much like art, that's the problem."
This unusual bird, sitting on a tree trunk, will not grab your attention immediately. Just give it time, though. If you approach it closely, you will see this piece of art start to move. The bird will hop up and down and flap its wings.
When Panamarenko talks about his work, he does little to demystify it and can actually make it seem even more mysterious: 'I was given a nice tree trunk by the city council, because they wanted a nice wooden bird like this. And there he is now, jumping up and down like a demented chicken. A toy, that's what it is. Actually, all I ever make is toys, because that's what true art is: the poetry of a toy. What others call real art looks too much like art, that's the problem. In fact, art is the only thing where you should try at all times to keep out of the sphere of influence, not to do what the authorities or the powers-that-be tell you: that's the essence of art. That's why I only like artists who have done or still do that kind of thing, like Joseph Beuys, Bruce Nauman and Marcel Broodthaers.'
Panamarenko has been fascinated by science since the Sixties and has made numerous attempts to translate his fascination into art. His flying machines, space ships and Zeppelins enjoy international fame, but are doomed to remain grounded for ever. In this way, he portrays man's dream to fly, and his ambition to reach higher spheres. The hard fact, however, is that he will never be able to do so. Man can only beat the air and jump up and down, like this bird.
Location
Number 35 on the map
Specifications
Archaeopterix Lithografica
1993
h 30 cm x w 30 cm x d 30 cm (Archaeopterix)
h 300 cm x ø 40 cm (tree trunk)
Mixed media
MIDW477
Sculpture realised for the exhibition 'New Sculptures', organised by Bart Cassiman, project manager Contemporary Art for Antwerp 93, Cultural Capital of Europe.
More information about this highlight
Download