Inauguration
Don't miss the festive (and because of corona, long overdue) inauguration of this new artwork by Alderman for Culture Nabilla Ait Daoud and artist Goshka Macuga!
Join us on Friday 18 March 2022, 17:00 at the sculpture in the Stadspark (near the playgrounds).
About the work
The new work pays homage to Chantal Akerman, Belgian pioneer cineaste and visual artist; Andrée Blouin, pan-African political activist and member of the first democratically elected government of post-independence Congo; Patricia De Martelaere, philosopher, professor and author; Marie Popelin, the first woman doctor in Law in Belgium and key-figure in the international women's movement; and Mathilde Schroyens, the first woman mayor of Antwerp and reformer of the city's education system. Macuga contoured the profiles of these women and cast the outlines in rubber. The negative portraits that result from this process refer to the overwhelming absence of female figures in the collective memory and the public imaginary, and to the often invisible nature of intellectual and artistic labour and innovation.
With Figures of Absence, as the sculpture is titled, Goshka Macuga shows that the history of progress, resistance, and change can only be written –and depicted, portrayed– truthfully when it is written inclusively. Although there are many statues of religious and allegorical female figures adorning the city of Antwerp, Macuga's new sculpture is the first ever artwork in the public space of the city dedicated to real historic women and their merits.
Partnership with Permeke Library
From 17 May to 17 June 2021, and inspired by the new artwork by Goshka Macuga, the main municipal library, Permeke, presents a special book stand. This stand contains information about the artwork, books written by or about the five women represented by Macuga, catalogues about the artists' oeuvre, and a number of her favourite novels. This selection of publications offers an expanded, public introduction to Macuga's artistic universe.
About Goshka Macuga
Born in Poland in 1967, Goshka Macuga lives and works in London since 1989. Her practice connects different areas and methods of research. Her inquiries are often focused on institutional histories proposing unconventional associative readings of their social and political histories. Macuga's strategic orchestration of existing materials, collectables and archival documents support the reframing of established narratives She has had solo exhibitions at the New Museum, New York; Fondazione Prada, Milan; Schinkel Pavilion, Berlin; Lunds Konsthall, Lund; Museum of Contemporary Art, Chicago; Zachęta National Gallery of Art, Warsaw; Whitechapel Gallery, London; Tate Britain, London; Kunsthalle Basel; and the Walker Arts Centre, Minneapolis. She was included in Documenta 13 in 2012, and nominated for the Turner Prize in 2008. Her work is included in numerous public collections including Tate, MoMA, Government Art Collection, Arts Council Collection, MCA Chicago and Castello di Rivoli.
Practical
On view from 14 May 2021 until 15 May 2022
Address: Stadspark (nearby the playground), Rubenslei, 2018 Antwerp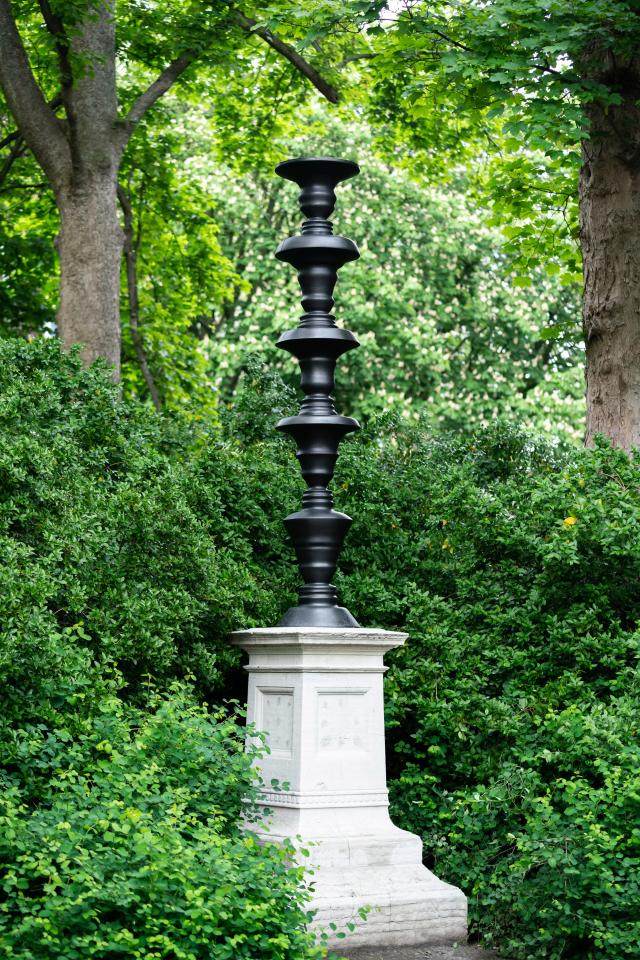 Photo: Tom Cornille
For Public Figure, every year a contemporary artist is invited to create a new artwork responding to questions about the meaning of public representation today: Who or what do we put on a pedestal? Who or what do we depict in the urban common realm? For Publiek Figuur #1 (July 2020 to April 2021) artist Tramaine de Senna made a bronze sculpture titled Figure of Color. This sculpture was also acquired for the city's public art collection (Collectie Kunst in de Stad).