The number of the artwork corresponds to the number on the exhibition route in the visitor's guide.
You can also find this artwork in the virtual tour.
Simone Leigh was born in Chicago in 1967, and lives and works in Brooklyn, NY. Leigh received a BA in fine arts with a minor in philosophy from Earlham College, Richmond, IN, in 1990. She works primarily with sculpture, ceramics, installation, and video, as well as with Social Practice, to foreground black female experience and reframe stereotypes associated with it. The artist's practice is imbued with references and sensibilities sourced from Pan-African vernacular culture, ranging from early Egyptian terracotta vessels and the rammed-earth dwellings of the Cameroonian Mousgoum to Nigerian ibeji figures and 19th-century African American face jugs. She held recent solo exhibitions at the Solomon R. Guggenheim Museum, New York (2019); the High Line, New York (2019); the Hammer Museum, Los Angeles (2016); Studio Museum in Harlem in Marcus Garvey Park, Harlem, New York (2016); Tate Exchange at Tate Modern, London (2016); New Museum, New York (2016), among other institutions. Leigh has participated in numerous group exhibitions including The Future As Disruption, Kitchen (2008); 30 seconds off an Inch, Studio Museum in Harlem, New York (2009); Whitney Biennial, Whitney Museum of America Art, New York (2012 and 2019); Radical Presence: Black Performance in Contemporary Art, Contemporary Arts Museum Houston (2013); Dak'art Biennial, Dakar, Senegal (2014); Greater New York, MoMA P.S. 1, Long Island City, NY (2015); Trigger: Gender as a Tool and a Weapon, New Museum of Contemporary Art (2017); Berlin Biennial (2018); and Vancouver Biennial (2019). Simone Leigh has been the recipient of numerous prizes, including a Creative Capital Award (2012), a John Simon Guggenheim Memorial Foundation Fellowship (2016), and the 2018 Hugo Boss Prize.
No Face (cobalt) (2016)
Number 14 on the exhibition route
Location: Braempavilion
The invisibilisation of black women's experiences is the question at the heart of Leigh's work. The face on the sculpture is hollow and shows no features, as a sign of the secret interior life that black women had to protect to endure. At the same time, the black  female  figure proudly holds her long neck, a nod to the antique busts of Egyptian queens and the unashamed beauty of deep dark skin tones. Made of terracotta and porcelain with a rosette of rosebuds, the delicate handiwork and the ceramic elevate the usually lesser-seen female 'crafts' to the rank of 'high art' that they deserve.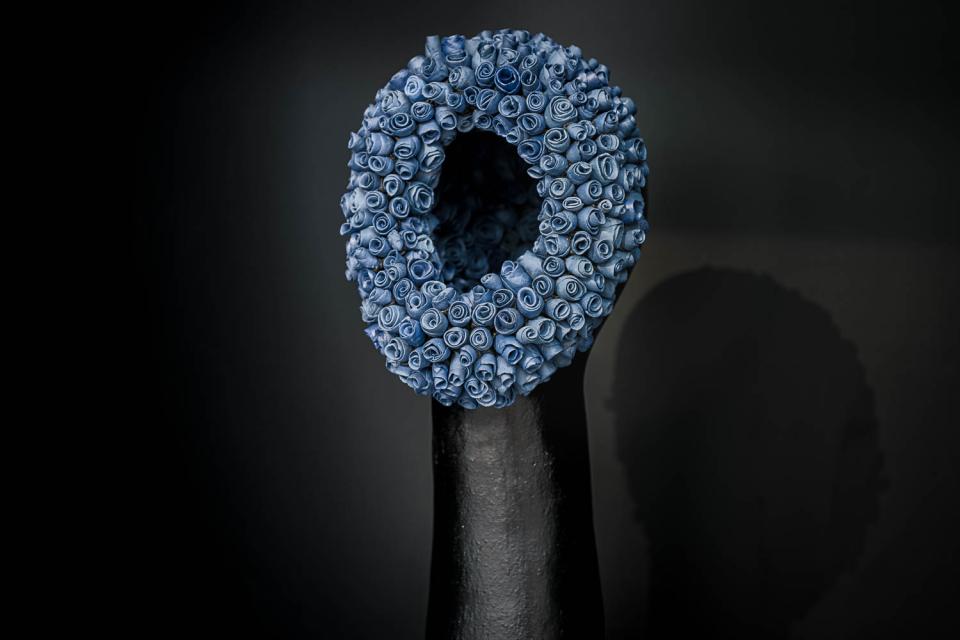 Simone Leigh, No Face (cobalt) (2016). @ The Artist. Photo: Léonard Pongo