Clusters in Braem Pavilion and Hortiflora
The exhibition title refers to the combination of specific works and – more importantly – to the mutually reinforcing effect created if the right elements are brought together. In the Braem Pavilion, Rogiers' existing and new small sculptures and etchings will engage in dialogue with pieces he selects from the sculpture museum's permanent collection. The superb surroundings of the Hortiflora flower garden provide additional support for his 'sculpture islands', arrangements of his own creations combined with works from the Middelheim Museum's permanent collection.
Quirky virtuoso
Peter Rogiers' work consists of sculptures, drawings, etchings, film and comics. He is fascinated by certain graphic novels, by B-movies, dance and other quirky art forms. These inspire his own work, which runs against the grain of current standards and artistic trends. Rogiers often works with synthetic materials such as PU foam, epoxy, polyester and stainless steel, but also explores the contemporary possibilities of 'classical' bronze. His penchant for detached yet pronounced colours makes the work stand apart from its context and at the same time makes it impossible to ignore. His work is both energetic and poetical, and is presented with a good deal of humour and a sense of perspective. It is high time that this quirky virtuoso is presented to the general public.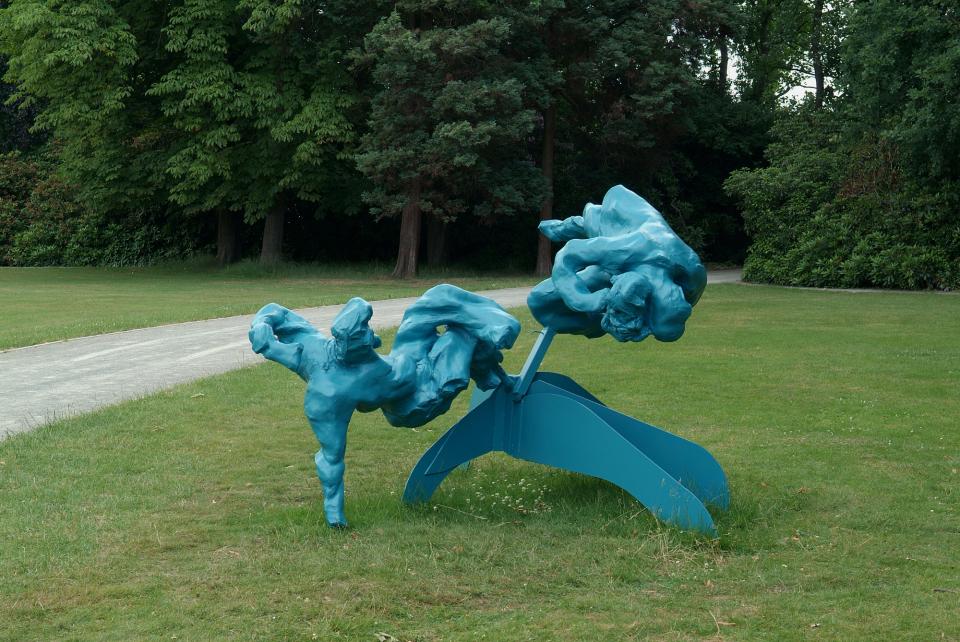 Peter Rogiers
The course steered by Peter Rogiers (born 1967) through the art world is as remarkable as his oeuvre. Hailed as the pioneer of a new generation of sculptors, Rogiers has kept away from the art scene that so admired him, deliberately going his own way. However, this has not prevented him from being included in the most important art collections and exhibitions at home and abroad.
Practical info
Peter Rogiers, CLUSTER
From 21 May until 18 September 2016
Opening festivities on May, 21
With foodtrucks, DJ's, free entrance.
1 PM
Artist Talk Peter Rogiers
 
2.30 PM
Opening of the exhibition by Sara Weyns, Director of the Middelheim Museum
 
3 PM until 6.30 PM
Explanation in the exhibition by the museum guides
 
5 PM
Poetic interlude by Maarten Inghels, City poet
 
Continuously
DJ's Rafaël (1 PM), Tim Vanhamel and Benny Bang (5.15 PM), Guillaume Bijl (10 PM)
Foodtrucks (12 PM – 7.30 PM)