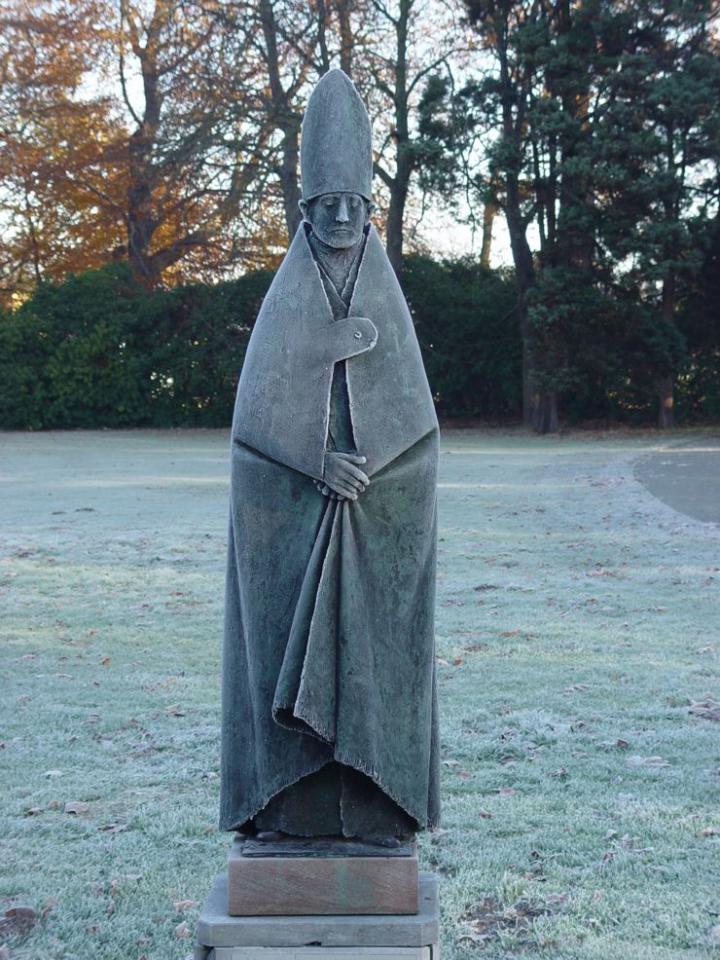 From 1938 until 1965 Manzù sculpted a total of 50 "cardinals". 
Some are seated whereas others are standing. They all measure between 20 cm and 2.5 metres. Barring one exception, none of them are individual portraits as Manzù was mainly interested in their form.
In 1938, the artist became fascinated by a group of cardinals which he spotted during his visit to St. Peter's in Rome. Their enveloped bodies, the form within the form, all left a deep impression on him. In this sculpture, the cardinal seems to be rather introverted, his eyes are cast down, as if he is lost in meditation. His robe is tightly drawn around his otherwise shapeless body. Except for his face and one of his hands, only his clothing is visible. This is a closed, vulnerable and fragile-looking figure.
Manzù was a draughtsman, a painter and a woodcarver. He was so fascinated by the works of Donatello and Medardo Rosso, however, that he eventually opted for a career as a sculptor, a decision which was wholeheartedly supported by Aristide Maillol. He combined Marxism with faith, which accounts for the religious inspiration in most of his work. He was a gifted portrait maker, creating portraits of cardinals and of his personal friend, Pope Johan XXIII, as well as of classical dancers. What interested him most of all was humanity in all its different aspects and subtleties.
Specifications
The Cardinal
1952
h 170 cm x w 49 cm x d 51 cm
Bronze
MIDW039
More information about this highlight
Download