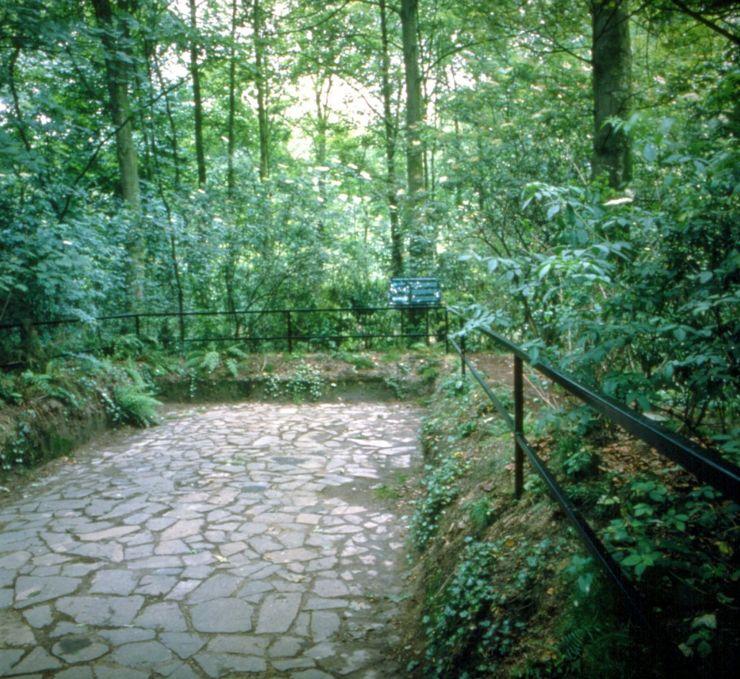 Bijl likes to mislead the visitor. 
In a remote, somewhat forgotten corner of the Middelheim Museum, Guillaume Bijl has excavated a section of a Roman road. A real one, or so it would seem, complete with barriers to keep out curious visitors. An information sign completes the picture.
This installation cannot be distinguished from a real archaeological site. Only those who have the necessary geographical and historical knowledge of the location can tell that this is not 'real'. This type of installation is typical of Guillaume Bijl, who has often worked with Marcel Duchamp-imbued 'Compositions trouvées': hairdressers' and billiard halls, driving schools and large, 1:1-scale supermarkets. And fully equipped archaeological sites.
By the time the visitors arrive, the interpretation has already ended. An intervention in reality has occurred, which spectators/ tourists have to accept – and they usually do so without thinking. In this, the work refers to the uncritical consumerism of the average tourist. The unquestioning acceptance of what a guide or an information board dishes up in a museum or art gallery.
Location
Number 30 on the map
Specifications
Roman Road
1994
h 100 cm x w 500 cm x d 1100 cm
Stone, mixed media
MIDW480
More information about this highlight
Download