The number of the artwork corresponds to the number on the exhibition route in the visitor's guide.
You can also find this artwork in the virtual tour.
Jean Katambayi was born in 1974 in the Democratic Republic of the Congo. He lives and works in Lubumbashi, DRC. Trained as an electrician, his entire artistic practice is imbued with his fascination for mathematics, engineering, geometry, and technology. Profoundly marked by his upbringing in the workers' camp of his mining hometown and by its mechanization, Katambayi creates fragile and complex installations and drawings inspired by sophisticated electrical circuits and technological studies. His works are part of a search for solutions to social problems in current Congolese society, as well as to the country's depletion of its enormous energetic resources. Often made of recycled and impermanent material, such as cardboard and recycled electronic material, the artist's poetic pieces attempt to redress the imbalance of the world's hemispheres. Jean Katambayi has had numerous solo shows (Trampoline Gallery, Antwerp; Stroom, The Hague; and more) and group exhibitions (Palais de Tokyo, Paris; Dak'art, Havana, and Lubumbashi biennales; Museum für Völkerkunde, Hamburg; and so on). Among other places, he has been in residency at the École Supérieure d'Art d'Aix-en-Provence (Aix-en-Provence, France), at WIELS (Brussels,), and at the Visual Arts Network for South Africa (Johannesburg). His work is part of the collection of Muhka (Antwerp) and Mu.Zee (Ostend, Belgium). Lately Katambayi has been participating in the ongoing On-Trade-Off research project, a collaboration between Enough Room for Space (Belgium) and Picha (DRC).
MM / Afrolampe (2021)
Number 10 on the exhibition route
Location: art park
MM stands for Ma Maison (my house) and Middelheim Museum. Katambayi creates a scaled-down copy of the miner's house he grew up in at the Katanga mines, and uses copper from those same mines for the facades. In doing so, he transplanted a part of the miner's life in Congo to a park in Belgium and establishes a link between the harsh labour of Congolese workers, the plundering of natural resources in the Congo, and the leisurely lifestyle in Europe. The impressive light bulb in the house is a new sculpture based on his series of Afrolampes drawings. The lamp stands for energy, electricity and light, but the complicated wiring also refers to the frequent lack of it in today's Congo. Katanga's rich copper reserves (copper is an important material for electrical wiring) still mainly benefit others, not the local population.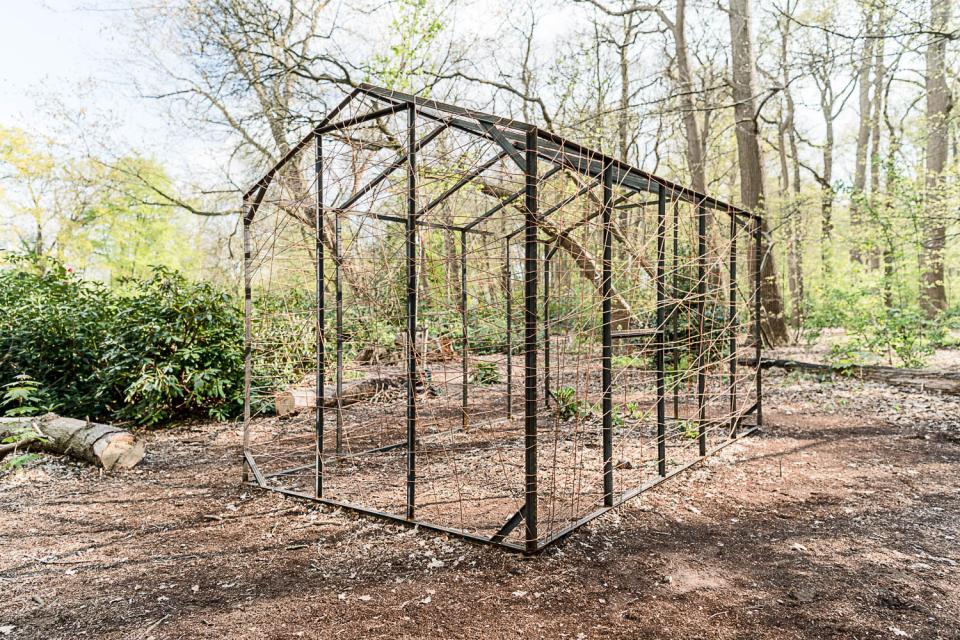 Jean Katambayi, MM / Afrolampe (2021). @ The Artist. Photo: Léonard Pongo