The number of the artwork corresponds to the number on the exhibition route in the visitor's guide.
You can also find this artwork in the virtual tour.
Kapwani Kiwanga was born in 1978 in Ontario, Canada. She lives and works in Paris, France. Kiwanga studied anthropology and comparative religion at McGill University (Montreal). Kiwanga was the inaugural winner of the 2018 Frieze Artist Award, the Sobey Prize for the Arts (Canada), and of the 2020 Marcel Duchamp Prize. Among other venues, she has held solo exhibitions at MIT List Visual Arts Center (Cambridge, MA), at the Power Plant (Toronto), and at the Jeu de Paume (Paris). Kiwanga also participated in group exhibitions at the Museu d'Art Contemporani de Barcelona, in addition to the Whitechapel and Serpentine Sackler galleries in London. Kapwani Kiwanga is a multimedia artist working with sound, film, performance, and objects. Her practice relies on extensive research into African and African diasporic archival material, which she then turns into historical investigations. Kiwanga is not only invested in the past but also the future, telling Afrofuturist stories and creating speculative archives from future civilizations to reflect on the impact of historical events.
Flowers for Africa: Rwanda (2019)
Number 17 on the exhibition route
Location: art park
This triumphal arch is a copy of the arch that was erected in Rwanda in 1961 for the festivities surrounding the proclamation of the Republic (independence was ratified in 1962). Independence was celebrated in various ways in African countries, but Kiwanga focuses in her Flowers for Africa series on one  of the most  transient: the flower arrangements. The arch is covered with eucalyptus, a native plant of Rwanda. Naturally, the flowers and plants wither after a while. This withering symbolizes the independence that soon lost its lustre, but it is also a reflection  on whose stories and  memories are preserved and used to write history, and whose are not.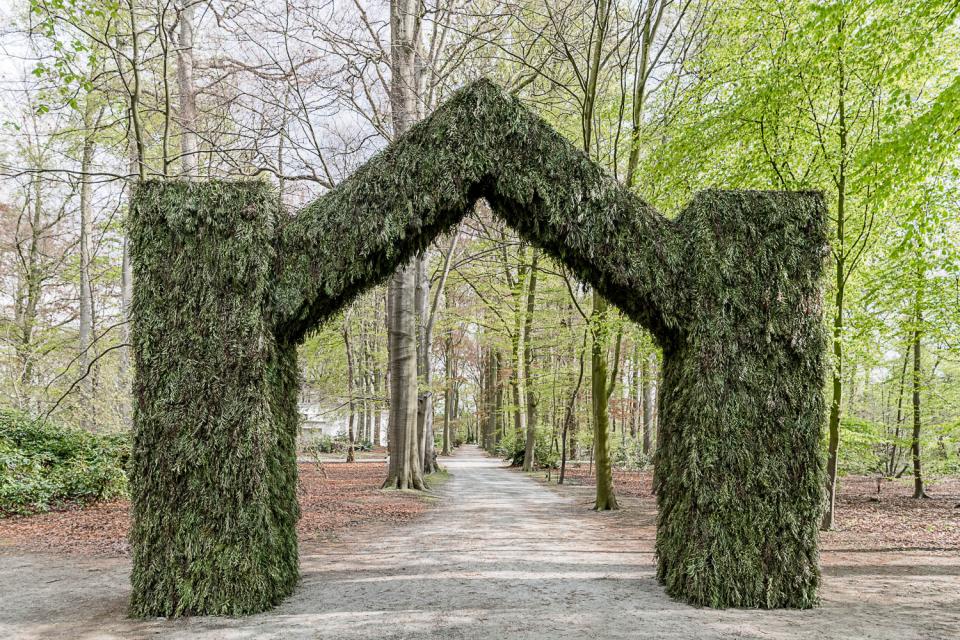 Kapwani Kiwanga, Flowers for Africa: Rwanda (2019). © The Artist. Photo: Léonard Pongo