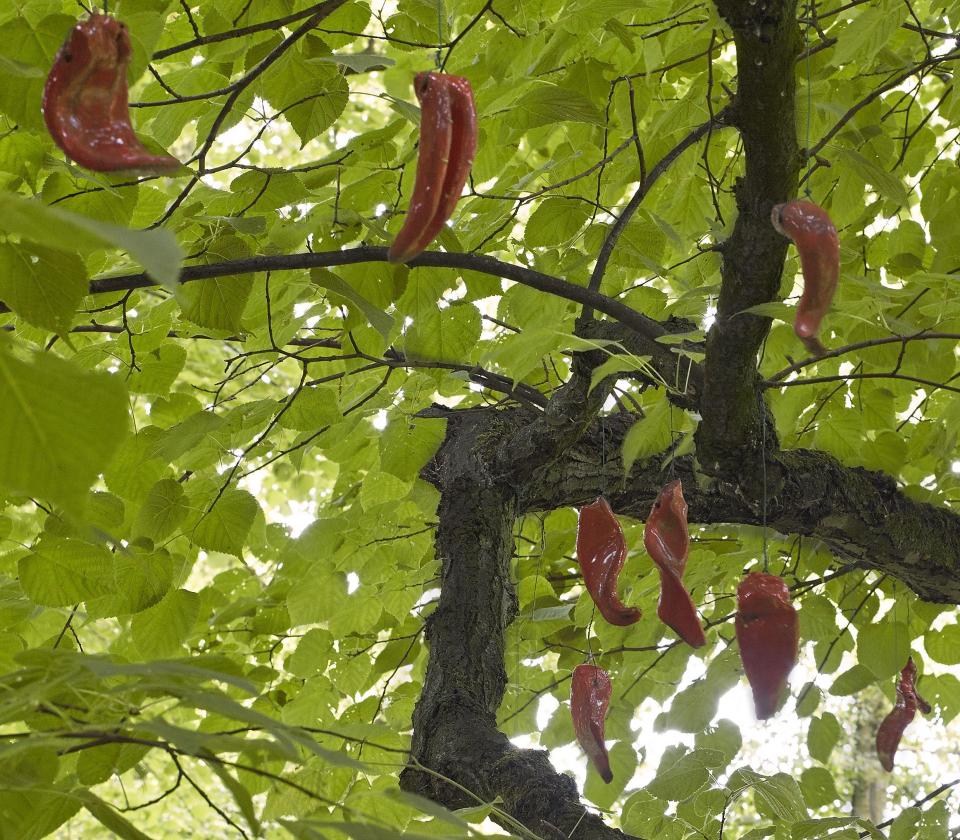 A subtle intervention is evidence of almost romantic poetics: art serving as a mediator between culture and nature. 
Schütte's outdoor works often have a monumental quality, sometimes playful, sometimes threatening. Thousand Tongues consists of several dozen tongues made from pink-coloured ceramic suspended on wires in a treetop on the edge of Middelheim-Laag. 
Each "tongue" is different, but their shapes are strongly reminiscent of leaves. This makes them hard to detect at first, they are so well integrated. Like the leaves of the tree, the tongues move in the wind and seem to contribute to the whispering sound of the treetop.
In the Eighties, Thomas Schütte was seen as a representative of a new generation of German artists who distanced themselves from Minimal and Conceptual Art. Along with artists such as Reinhard Mucha, Hubert Kiecol, Ludger Gerdes and Harald Klingelhöller, Schütte had a postmodern practice in which references to art and architecture history went hand in hand with the desire to place the Modernist ideal in perspective.
The oppositions of conceptual and physical, abstract and figurative were to vanish in the late Seventies. Sculpture took on the form of an urban environment, theatre sets, Modernist architectural models or apparently functional, furniture-like objects. Schütte's three-dimensional work, moreover, has a very close relationship with his drawings and watercolours.
Specifications
Thousand Tongues
1993
h 17 cm x w 7 cm
Ceramics
MIDW47B
Sculpture realised for the exhibition 'New Sculptures', organised by Bart Cassiman, project manager Contemporary Art for Antwerp 93, Cultural Capital of Europe.
More information about this highlight
Download