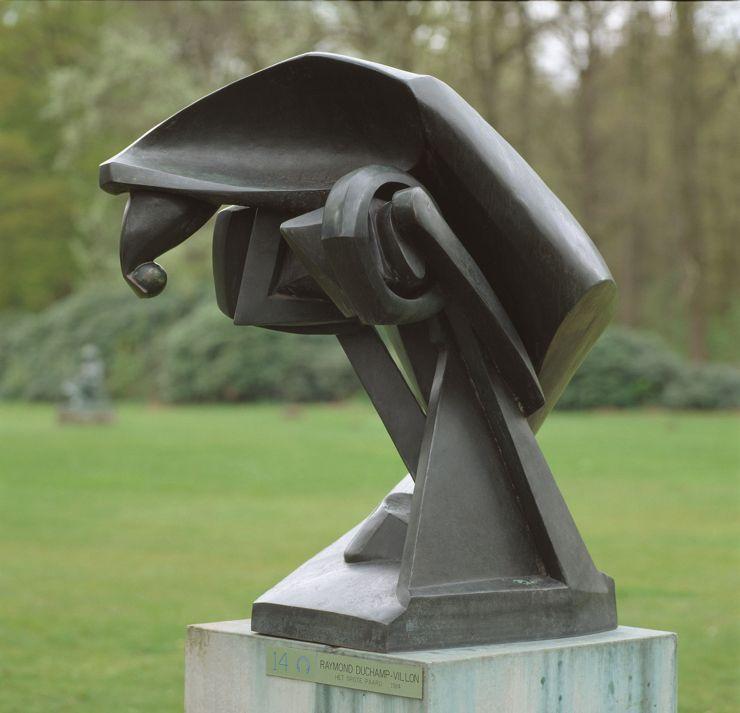 Le Grand Cheval or The Large Horse embodies a belief in progress, in furious dynamism, both in form and idea.
With the aid of Cubism, and with a nod to the Futurists, who were creating a furore in Italy at the time, Duchamp-Villon succeeded in fusing form and machine using animal strength as a common denominator. This work celebrates and venerates animal power and speed.
The forms restrict the space, attempting to contain it. The layered body visualises speed. Duchamp-Villon created another five editions of this sculpture, possibly because he was a passionate horseman himself? They are exhibited in the Museum of Modern Art in New York, Centre Pompidou in Paris and the Tate Gallery in London among others.
Raymond Duchamp-Villon was the brother of Marcel Duchamp and Jacques Villon. He was an autodidact, which did not prevent him from progressing steadily as a sculptor. From 1905 onwards, he participated every year in the Salon d'Automne. In 1910, he even founded his own Cubist movement. He enlisted as an auxiliary doctor when the First World War broke out in 1914, but did not survive the conflict.
Specifications
The Large Horse
1914
h 107 cm x w 100 cm x d 60 cm
Bronze
MIDW097
More information about this highlight
Download