The number of the artwork corresponds to the number on the exhibition route in the visitor's guide.
You can also find this artwork in the virtual tour.
Sven Augustijnen (1970) was born in Mechelen, Belgium, and he lives and works in Brussels. Working primarily in film and installation, Augustijnen's practice has long been exploring political, historical, and social themes, constantly challenging the genre of the documentary and reflecting a wider interest in historiography and a predilection for the nature of storytelling. He has had solo shows at the following institutions, among others: Cultuurcentrum Strombeek Grimbergen (2019); The Hugh Lane, Dublin (2016); Kunsthall Trondheim, Trondheim (2015); CCS Bard & Hessel Museum of Art, Annandale-on-Hudson, NY (2014); VOX, Centre pour l'Image contemporaine, Montreal (2013); Malmö Konsthall, Malmö (2013); Kunsthalle Bern, Bern (2011); De Appel, Amsterdam (2011); WIELS, Brussels (2011). Recent group shows include: The Unfinished Conversation: Encoding and Decoding, Museo Coleção Berardo, Lisbon (2016), and The Power Plant, Toronto (2015); Gestures and Archives of the Present, Genealogies of the Future, Taipei Biennial (2016); Art in the Age of … Asymmetrical Warfare, Witte de With, Rotterdam (2015); Europe – The Future of History, Kunsthaus Zürich (2015); Ce qui ne sert pas s'oublie, CAPC, Bordeaux (2015); Enthusiasm!, Rencontres Picha – Biennale de Lubumbashi, Lubumbashi (2013). Sven Augustijnen teaches at ERG (École de Recherche Graphique), in Brussels, and is one of the founding members of the production and distribution platform August Orts.
AWB 082-3317 7922 (2012)
Number 11 on the exhibition route
Location: art park
This work is a 'political ghost shrine' for Patrice Lumumba (1925-1961), the first Prime Minister of the independent Congo. Lumumba was assassinated by a coalition of Belgian, American and Katangese authorities, but to this day has still not been given a grave. The bicycle had been Lumumba's preferred means of transportation. The sacks of charcoal and the tree to which the bicycle is attached refer to the tree against which he was executed along with two political companions, and which was probably reduced to ashes to cover all traces. But also, the piece imitates the bike riders carrying homemade charcoal, so common on contemporary Congolese roads. Augustijnen's assemblage is titled after the airway freight number assigned to the shipment of these objects from the village in which Lumumba was assassinated to Belgium. In the end, the package never arrived. That loss, on the way from Africa to Europe, plus the seriality and anonymity of the administrative code, echo the 'cold case' of this murder, and in a broader sense of the Belgian-Congolese post- colonial history.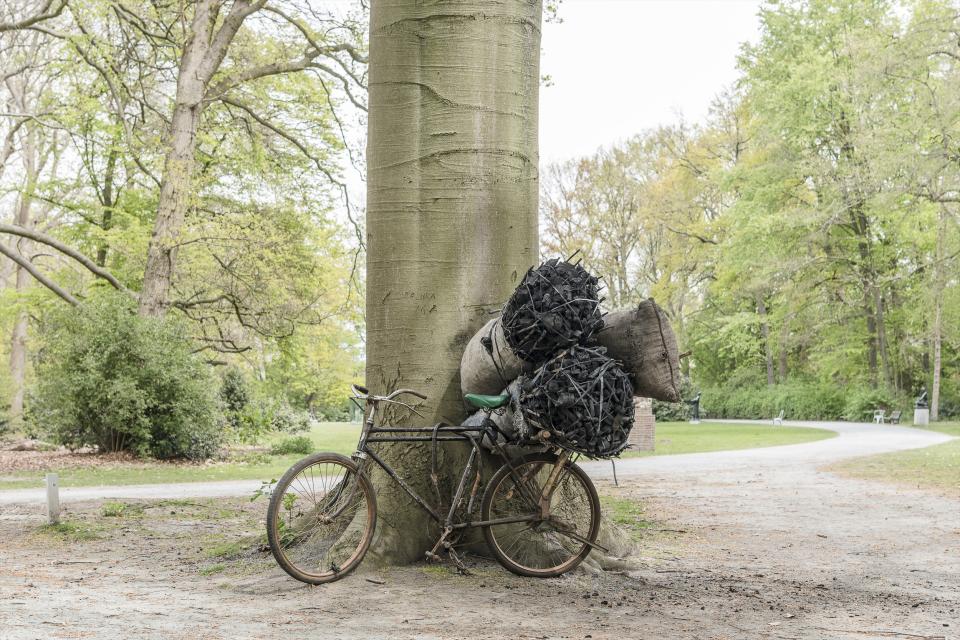 Sven Augustijnen, AWB 082-3317 7922 (2012). _© The Artist & SMAK. Photo: Léonard Pongo