The number of the artwork corresponds to the number on the exhibition route in the visitor's guide.
You can also find this artwork in the virtual tour.
Elisabetta Benassi was born in Rome, Italy, in 1966. In her work she critically observes the cultural, political, and artistic legacy of modernity, as well as broader, often controversial political and cultural themes of our time. Using diverse media – installation, photography, video – she thus emotionally engages and questions the viewer while tracing troubled and contested timelines. From the background of her pieces emerges a questioning of contemporary identity and of the conditions of the present. Her work has been featured in several solo shows: Museo Nazionale Romano, Palazzo Altemps (Rome, 2019); MOSTYN (Llandudno, Wales, UK, 2019); Magazzino (Rome, 2016, 2010, 2006); Grand Palais (Paris, 2011); Museo d'Arte Contemporanea (Rome, 2004); École Nationale Supérieure des Beaux-Arts, (Paris, 2003). Her work has been included in numerous collective exhibitions around the world, such as the Vidéo et après, Cinéma 2, Centre George Pompidou (Paris, 2017); More Than Just Words [On the Poetic], Kunsthalle Wien (Vienna, 2017); The Raft. Art is (not) Lonely, Mu.ZEE and various locations (Ostend, Belgium, 2017); D'une Méditerranée – L'autre, FRAC (Marseilles, 2016); NERO SU BIANCO, American Academy in Rome (Rome, 2015); Retour à l'intime, la collection Giuliana et Tommaso Setari, La maison rouge (Paris, 2012). Her work has been presented at the 2011, 2013, and 2015 Venice Biennale, this last time as part of the Belgian Pavilion.
M'FUMU (2015)
Number 16 on the exhibition route
Location: Braempavilion
M'Fumu was the nickname of the Congolese activist and nationalist Paul Panda Farnana (1888-1930). He was the first Congolese to ever receive  a higher  education and diploma in Belgium. Benassi imagines a probable visit of Farnana to the colonial museum in Tervuren on the 44 tramline from Brussels. She designed a macabre tram stop for this popular tramline to the AfricaMuseum, still the largest and most ideologically outspoken remnant of Belgian colonialism in Belgium. As an agronomist, Farnana may have been well aware of the destruction of nature that resulted from colonization, echoed in the casts of the bones of exotic animals that make up the shelter. M'Fumu offers a space to mourn, one to speak the truth, and also one to claim justice.
Every last Saturday of the month, performer Douglas Park will read from King Leopold's Soliloquy (1909) by the American writer Mark Twain. At the time, it was the most vicious charge against King Leopold II.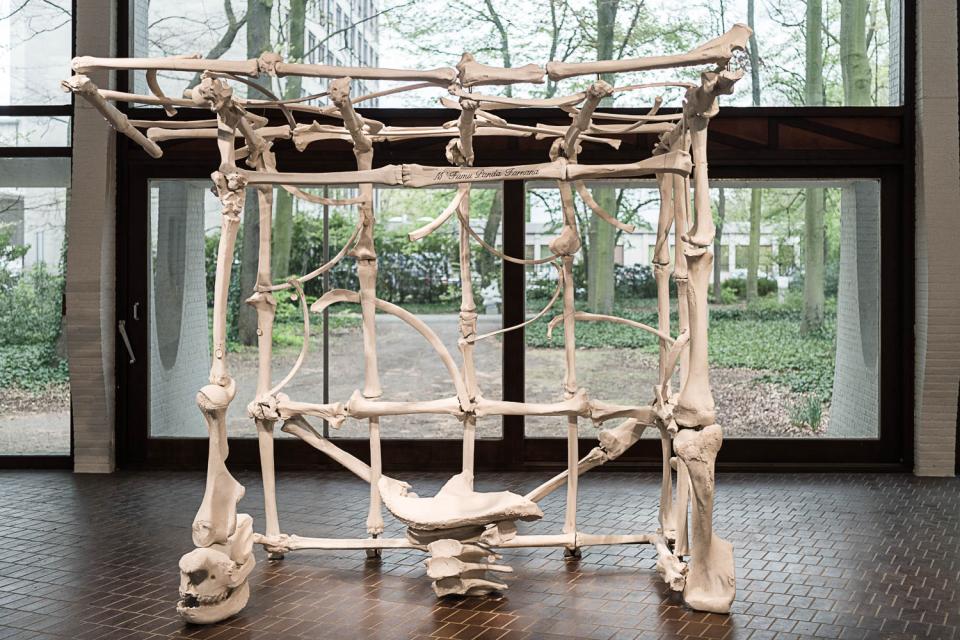 Elisabetta Benassi, M'FUMU (2015). © The Artist & Magazzinno Arte Moderna. Photo: Léonard Pongo