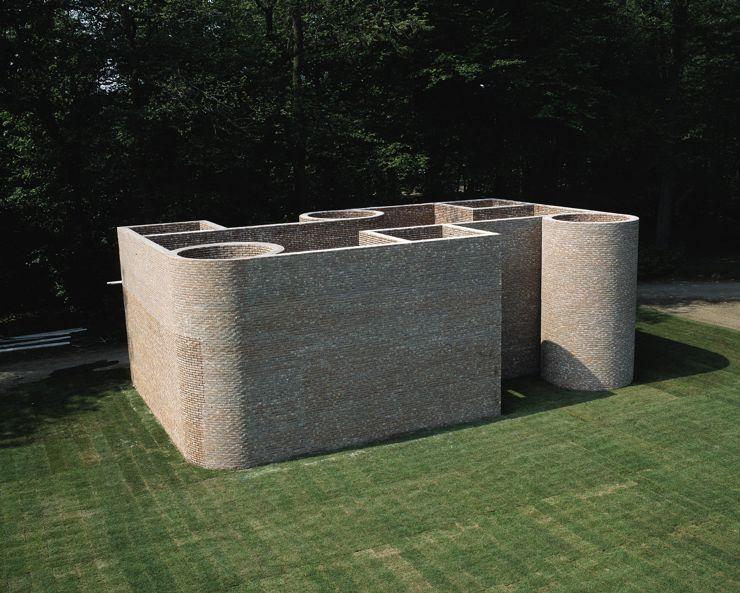 This solid construction doesn't allow us a reassuring roof over our heads and serves no purpose. Or does it?
Although Kirkeby uses brick and concrete and designs in his sculptures, as an architect would – including preparatory drawings and scale models – he does not make complete buildings. In 1995 Kirkeby used his sculpture as exhibition pavilion for a number of his bronzes.
Per Kirkeby started creating sculptures out of bricks in the 1970s, having already made paintings and collages on this theme. The brick sculpture confronted viewers with their own views on art, architecture, public space and nature. Kirkeby has constructed a physical boundary, a frame for our gaze. Yet viewers can simply walk around and get lost in the sculpture – inside it is a labyrinth. The path through it frequently runs into dead-ends in closed rooms and blind walls. Yet from a bird's-eye view this brick sculpture looks exceedingly comprehensible.
In the ground plan Kirkeby alternates circles with squares. At the front the corners are formed by two circles with a square in between, while at the back there is a circle in the middle with squares on either side at the corners. Circles and squares are very much hallmarks of geometric art.
With the support of ABEW
Specifications
Untitled, Antwerp Middelheim
1993
h 500 cm x w 1500 cm x d 900 cm
Brick
MIDW472
Sculpture realised for the exhibition 'New Sculptures', organised by Bart Cassiman, project manager Contemporary Art for Antwerp 93, Cultural Capital of Europe.
More information about this highlight
Download