Public Figure is an annual commission by the Antwerp Public Art Collection (Kunst in de Stad – Middelheimmuseum), inviting a contemporary artist to make a new public sculpture that is presented in the Stadspark. Prompted by the question "Who or what do we put on a pedestal today?", this commission is both a reflection on the future of public art and a critical response to the existing historic public art collection of Antwerp.
This year, artist Iván Argote (1983, Colombia, lives and works in Paris) presents "Antipodo", a new bronze sculpture depicting a human figure, but something about their stance is off. By placing the feet of the figure in the opposite direction, Argote references archaic ideas and preconceptions about the appearance of people living "on the other side of the earth".
Often depicted as semi-monsters, these figures reflect a certain apprehension towards the idea of the "other". The word antipode (anti - opposite, pode - feet) emerged in the ancient Greek to designate a territory on the other side of the world. During the Middle Ages, the sense of the word changed and was interpreted as "with opposite feet". Curiously, characters with inverted feet also appear in pre-Columbian mythologies, like the Brazilian Curupira, a forest guardian.
Argote's figure, gender ambiguous and sculpted out of clay, walks graciously forward (or backwards?), into (or out of?) the pedestal, with a sort of pride and calm joy. In the Stadspark, people of all walks of life cross paths. At the end of the day we are all antipodes of each other. We walk through the city and our lives in multiple different ways, yet share the same earth that lies under our feet.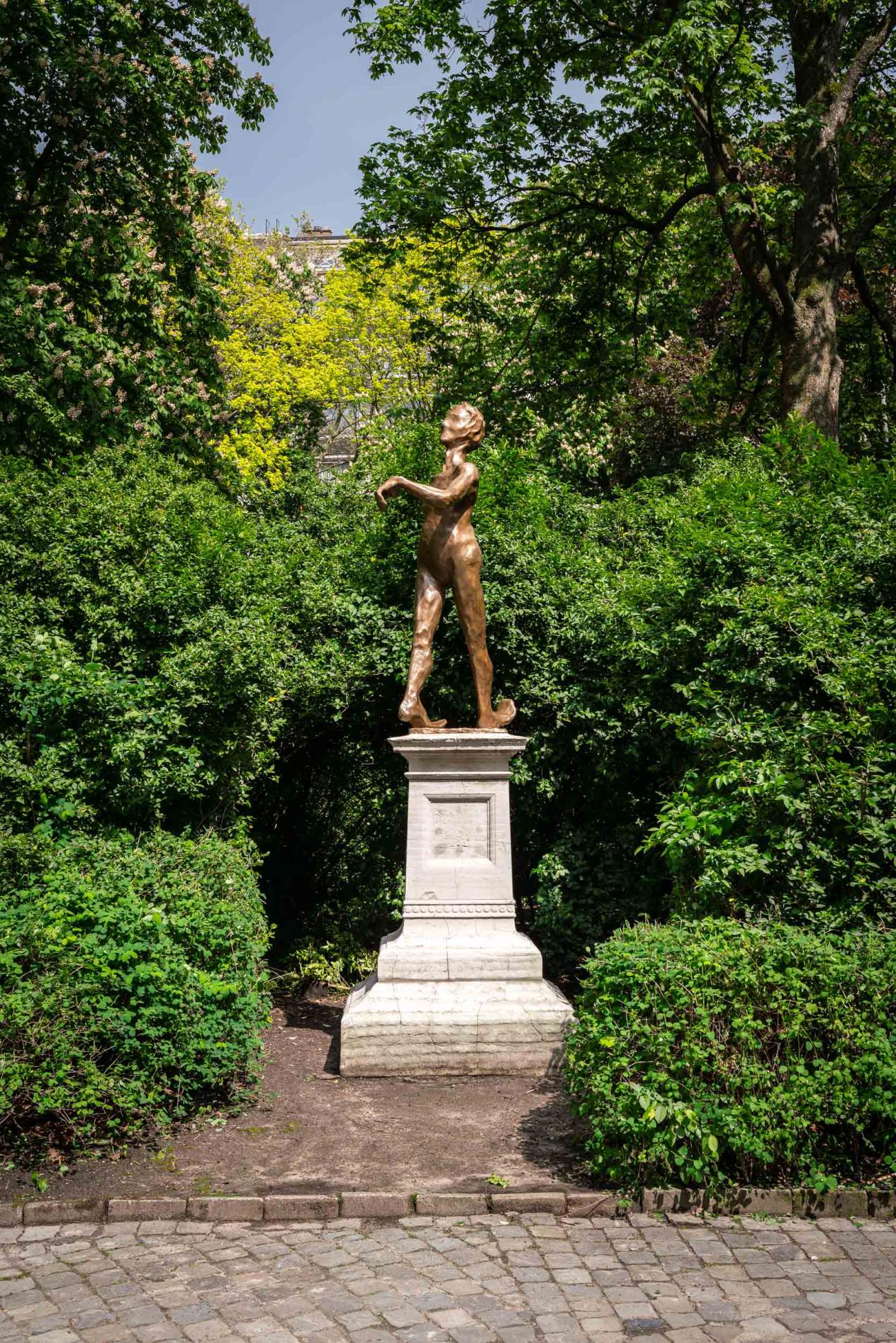 About Iván Argote
Iván Argote (b. 1983, Colombia) is a visual artist, based in Paris. He makes mostly sculptures and videoworks. When he moved to Bogotá as a young teen, Argote came in contact with historical monuments for the first time. This encounter is what prompted his interest of these public figures and their relation to history, tradition and power. They are a representation, as their purpose is to create a new narrative, a national identity. While pushing ahead a narrative of national pride, however, one part of history becomes forgotten. Argote seeks to reconnect with forgotten cultures and histories through playful interventions, in turn reconnecting the present and the past.
Recent solo exhibitions of his work have been organised at Centre Pompidou, Paris, Kunstverein Dortmund, the Guggenheim in New York and the biennial of São Paulo. He has been nominated for the Prix Marcel Duchamp in 2022 and the Future Generation Art Prize in 2017. Furthermore his work are part of the collections of Guggenheim Museum, New York, Centre Pompidou, Paris, ASU Art Museum, Phoenix, CNAP (Centre National des Arts Plastiques), Paris, Colección de Arte del Banco de la República, Bogotá, Kadist Foundation, San Francisco, Cisneros Fontanals Art Foundation, Miami, MACBA, Barcelone, and MUNTREF, Buenos Aires, among others.
Practical
On view from 12 May 2023 to 19 May 2024
Address: Stadspark (near the playground), 2018 Antwerp